Posted by: Editor in Twizted Sails
Comments Off

on Twizted Sails: St. Patrick's Day brought to you by Pirates?!?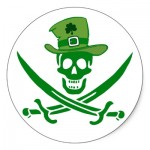 As Saint Patrick's Day approaches, most of us prepare our green clothing, Irish food, and of course drink. Be it a green milkshake for the wee lads and lass, or something with a bit more BITE for the adults.  And if asked what we are celebrating most people will tell you. It's St. Paddy's day!  If asked for more information most people would tell you that St. Patrick was famous for driving all the snakes out of Ireland and into the sea. (Though most historians think this may not be real snakes, as much as "metaphorical" evil)  But what you may not know is…
Read the rest of this interesting tale at Twizted Sails.