Posted by: Editor in The Art Show, Twizted Sails
Comments Off

on Twizted Sails: 'Twas the Night Before Christmas (Colorado Rogues Style)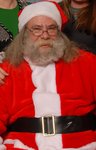 As a Christmas present to all of ye, we have a modified version of the Moore/Livingston poem that has endured for generations.  And though there are many variations of the poem we hope you will like our take on it.
Merry Christmas! Happy Yule! Happy Hanukkah! and Happy Holidays to  all!
'Twas the Night Before Christmas (Colorado Rogue Style)
Twas the night before Christmas, and all through the Fleet,
All the ships were in port; On the island they'd meet.
The stockings and mugs hung by the bulkhead with care,
In hopes that St. Nick would bring booty to share.
The treasures were kept safe on the Raging Saint Mae,
Inspiring visions of the Commodore in her fine array.
And I in my cabin, swaying slowly at ease,
Had just started dreaming of a cool island breeze.
Read the rest of the poem over at Twizted Sails